Mit dem Inkrafttreten der neuen EU-Datenschutzgrundverordnung im Mai 2018 wurden viele Anforderungen im Datenschutz erweitert.
Der rechtskonforme Umgang und Schutz Ihrer Daten liegt uns dabei sehr am Herzen. Aus diesem Grund haben wir jeden einzelnen Mitarbeiter nach den neusten DSVGO Vorschriften – durch die zertifizierte EU-CON-Akademie – schulen lassen.
Alle Mitarbeiter haben den Abschlusstest mit Auszeichnung bestanden und sind nun datenschutzrechtlich auf dem neuesten Stand – für Sie!
zoll ja immer sicher sein.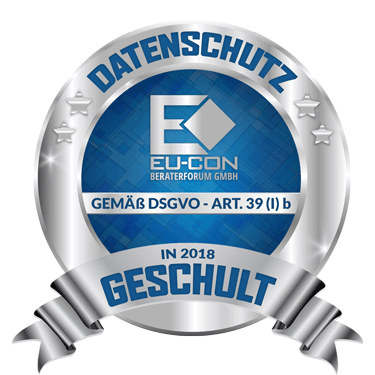 znet – data protection law up-to-date
With the new EU General Data Protection Regulation coming into effect in May 2018 many data protection requirements were expanded.
The legally compliant handling and protection of your data is very important to us. Subsequently, we have had all our employees trained according to the latest GDPR regulations – from the certified EU-CON Academy.
All employees passed the final test with flying colors and are now up to date with data protection regulations – for you!
We value your safety.